by Alison Charbonneau
Beets are one of those vegetables that have acquired a bad reputation for some. Whether it was an unpleasant experience (I'm looking at you salad bar) or that "no thank you helping" as a child that made them unappealing; at some point we decided to either like them or not.
I remember seeing those bowls of soft, mushy looking, sad pickled beets on the salad bars of my youth and decided that I wanted nothing to do with them. I never actually hated them but I never really liked them either. I just avoided them altogether and never gave them a chance. It wasn't something that my family ate often or really at all that I can remember, so I never had to give them a try.
Then, as I got older, beets picked up in popularity and it seemed like every salad I ordered had its share of shaved beets garnished on top. And you know what; they weren't too bad - in small doses at least. Then Hi-Berry Farm started to grow beets and I had much more access to them since they are available from about July to October, so I thought I should give them a real try.
I started to use them as I would carrots; roasting them with other root vegetables, steaming them with butter and eating them raw cut up in salads and coleslaws. It turns out, they are delicious! Being a root crop you would think they would be really earthy and starchy, but they are actually quite sweet. My kids really enjoy them and they add a fun bit of colour to the meal!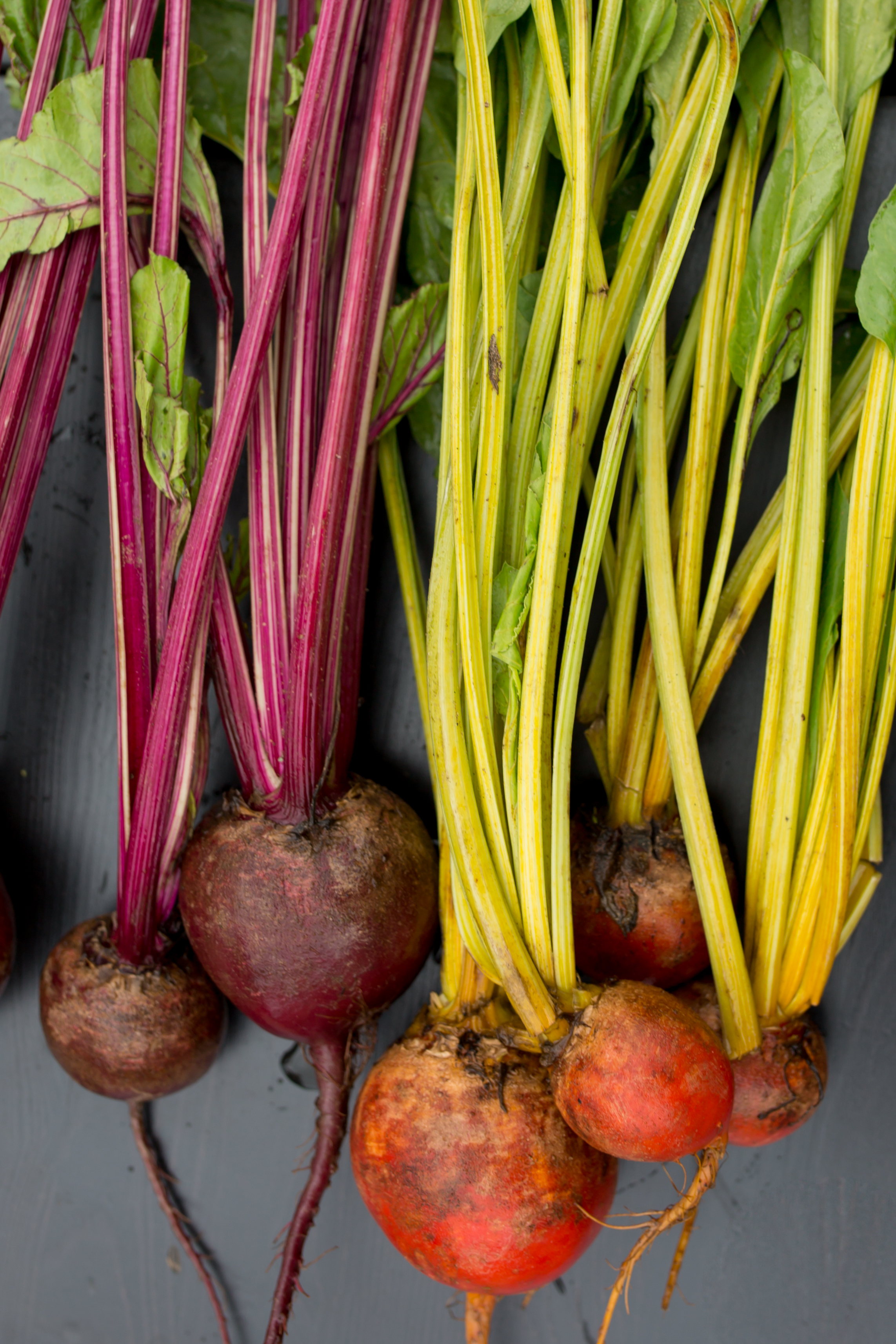 Choose firm bulbs with smooth skin and crisp, fresh stalks and dark green leafy tops.
It's easy to get stuck on an idea of how certain foods are supposed to taste. That's why it's always a good idea to give certain foods another look and a second chance; I think the Beet is one of those foods. That's why, when we partnered with Outlaw Brewery in Southampton, we took the beet from field to the glass and created Outlaw's 'Hi-Berry Beet' Beer!
Andrew Woodley, owner of Outlaw Brew Co. and creative genius, sat down with Luke and I this past spring to discuss working on a project together. "I just love local collaborations," he told us and he has done quite a few of them in recent years. We pitched a few ideas and landed on beets as something that would be readily available in the fall and that have a complimentary flavor profile, with their high sugar content and rustic notes, and would give the beer a colourful hue.
Andrew created a few trial batches using both the red and golden beets available at Hi-Berry Farm, but settled on the red beets to honour the beets' traditional colour profile. "A beet beer has got to embody that deep red hue."
The beet beer was produced using a beet reduction with a bit of Hi-Berry honey to sweeten and infused with a baseline beer profile to "allow the beets to be the star of the show." Andrew tells us that the creativity really came when it came time to decide the blend ratio of beet reduction to beer; I think he got it right! (See recipe below).
The colour is striking; distinctive near magenta, and the first sip – delicious! It's light and sweet and ever–so-slightly earthy, but not "beety" at all.
Whether you love it or not, the beet and the beet beer deserve a chance. Enjoy it with friends and create shared experiences. That's what food is all about isn't' it?
The Outlaw's 'Hi-Berry Beet' Beer will be on tap for a limited time so make sure you go out and try it!
Beets are available to enjoy now at Hi-Berry Farm.
Outlaw's 'Hi-Berry Beet' Beer
BEER RECIPE:
Organic 2Row
Organic Carafoam (for head retention)
Organic CASCADE hops sourced from Yakima, WA
filtered H20
3 parts BEER: 1 Part Beet Reduction
photography by Jill Schildroth

recipe by Andrew Woodley of Outlaw Brewing Company