From early May when we see the first purplish-green spears break dormancy, until the first of July when harvest ends, asparagus reigns.
by Alison Charbonneau
Asparagus season is an exciting time for my family. Not only do we get to enjoy these deliciously tender spears daily, it is also an encouraging time as it heralds in the coming growing season with all its wonderfully delicious bounty to come. The asparagus that is harvested now was actually planted two or more years ago and left until maturity when it can be harvested season after season for years to come.
The six week asparagus season (approximately) comes at a time when there are few other fresh vegetables available in our area. My family takes full advantage of the season eating asparagus at least twice a day (sometimes I even throw some cut up spears in my morning omelette). We eat so much asparagus that I am constantly on the lookout for different ways to prepare it. I have tried everything from boiling and steaming, to roasting and grilling (my favourite). I have even had it pickled. My son loves to eat it raw, straight from the field and my husband likes it done plain and simply in the microwave.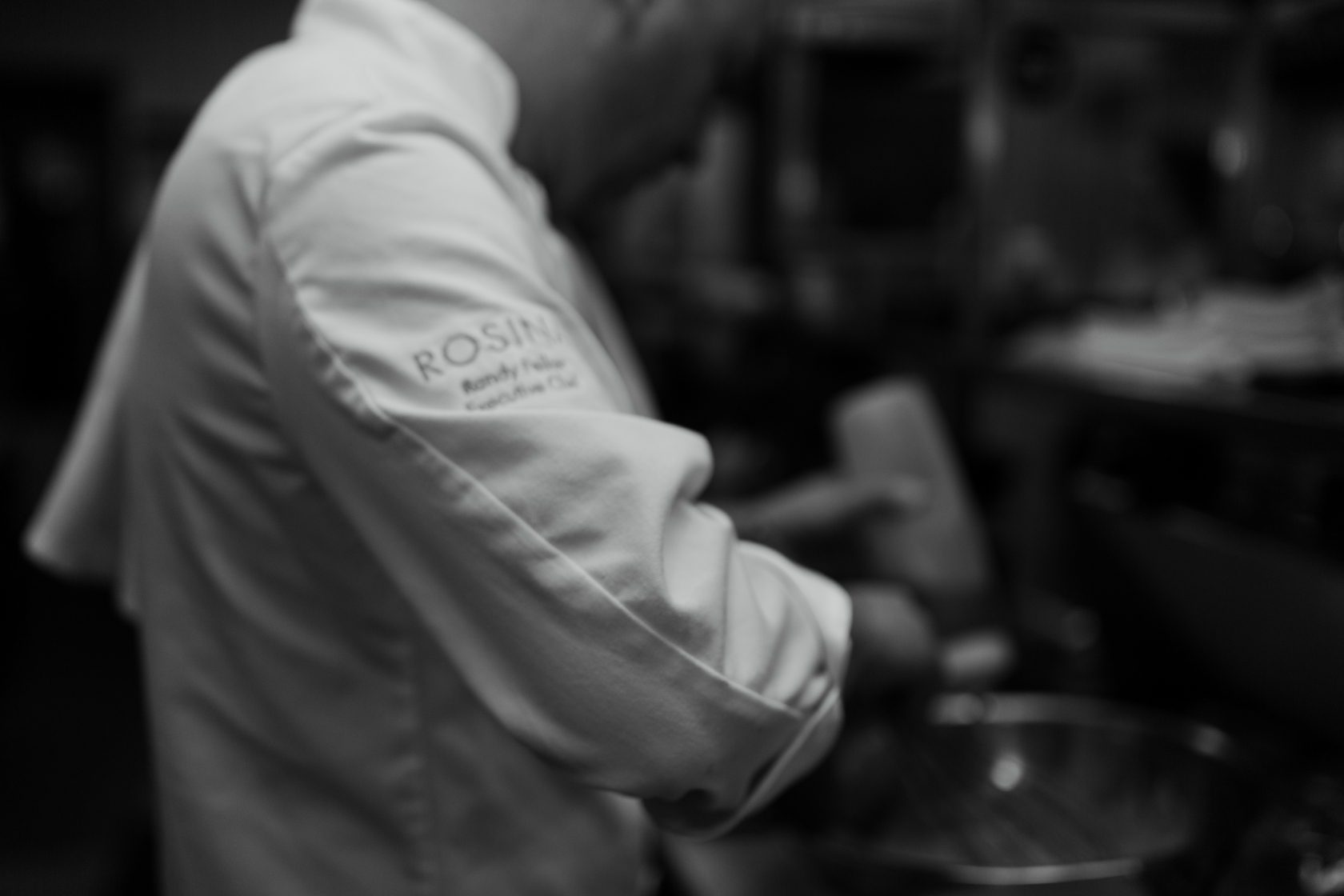 There are so many great ways to prepare asparagus!
Chef Randy Felker of Ristorante Rosina, Port Elgin
Looking for more ideas, I asked the team at ROSINA about their favourite method to prepare this versatile vegetable. "I wouldn't say I have an absolute favourite," says Randy Felker, executive chef at ROSINA, "there are so many great ways to prepare it!"
The top three on Randy's list this year are: Grilled Lemon Asparagus, Asparagus Salad and Asparagus & Pappardelle Pasta with Mushrooms (see below for recipes).
Randy invited me into his kitchen to show me how he makes his asparagus salad.
It was delicious! You can try it too as one of ROSINA's spring salad features.
We have lots of asparagus available for you to enjoy at Hi-Berry Farm.
Ingredients
2 bunches asparagus

1 shallot finely diced

2 egg yolks

2 tsp. Dijon mustard

1 tbsp. white wine vinegar

1 cup olive oil

2 medium poached eggs

Fresh dill

Micro greens for garnish

2 tsp Sicilian lemon white balsamic vinegar (Southampton Olive Oil Co.)

Kosher salt
Instructions
Cook asparagus in boiling water for 30 seconds then remove and immediately place into ice water for another 30 seconds, remove from ice water and set aside. In a mixing bowl place egg yolks, Dijon and vinegar, gently whisk together. Slowly pour olive oil into mixture while whisking rapidly until reaching a mayonnaise like consistency. Toss asparagus and shallot in dressing liberally, then place on plate neatly. Break up each egg into 8 pieces and drop randomly over asparagus, then finish with dill and micro greens, drizzle with white balsamic vinegar and a pinch of kosher salt.
Asparagus & Pappardelle Pasta with Mushrooms
Instructions
On medium heat sauté asparagus & mushrooms with olive oil for 3-4 minutes, add garlic and cook for another 30 seconds then remove from heat and set aside. Cook pappardelle pasta fresh or dry will work, reserve about half a cup of your pasta water, then add pasta and butter to asparagus mixture and warm gently with your noodle in the pan while adding small amounts of pasta water to create a sauce, once warm add chopped chives and a pinch of salt then serve immediately.
Ingredients
1 bunch asparagus sliced thin on a bias

2 cups oyster mushroom gently torn up

1 Tbsp. chopped garlic / ½ cup chopped chives

2 Tbsp. cold butter

2 Tbsp. olive oil

1 package pappardelle
Grilled Lemon Asparagus
Instructions
Lightly coat asparagus with olive oil, lemon juice & zest, salt & pepper.

Grill asparagus on high heat for roughly 30 seconds on each side.

Remove from grill and toss in lemon zest again and serve as a side dish or simply on its own.
Produced by howwedolocal.com
Photography by Jill Schildroth Photography
Recipes courtesy of Randy Felker, executive chef ROSINA